Touchette Hospital Employees Hold One-Day Strike, Take Arrest in Quest for Fair Contract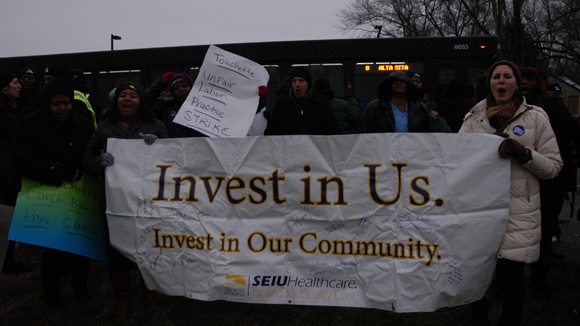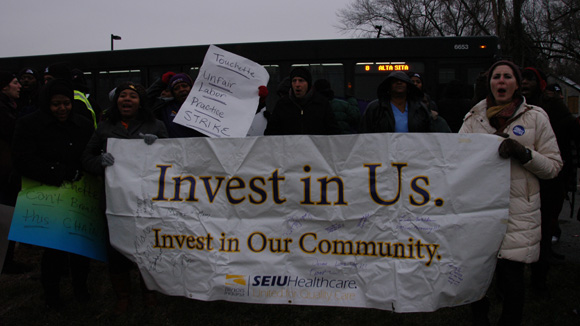 Caregivers, service, and maintenance employees at Touchette Hospital in Centreville, IL, have been negotiating with management for months over their first contract. Southern Illinois Heathcare Foundation, who owns Touchette Hospital, still refuses to offer any fixed wage increases to its union-represented staff, even though they recently doled out 2.5% increases for the Southern Illinois Healthcare employees.
Workers have kept the pressure on every step of the way throughout the campaign, garnering community support, holding worksite actions, and engaging local media.
In the face of dead-end negotiations and an employer committing unfair labor practices, workers planned a one-day strike on December 5th to illustrate their unity and commitment to winning a contract with fair economic proposals.
Despite the freezing temperatures, striking Touchette employees, allies, and fast food workers who were also on strike marched to Touchette Hospital, demanding a meeting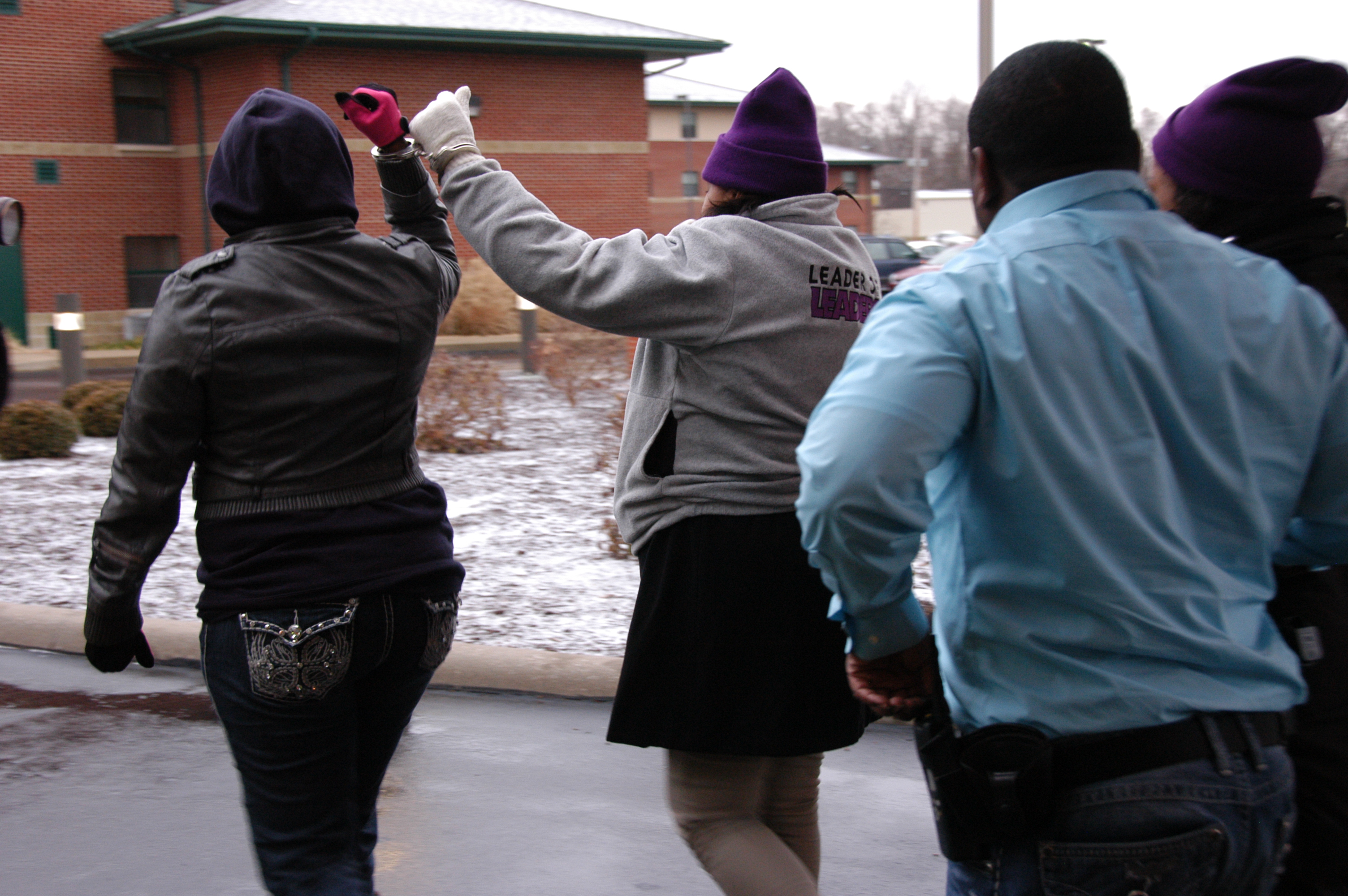 with CEO Larry McCulley. The request for a meeting was ignored and 8 brave workers and supporters locked arms and refused to move in front of a hospital entrance. The 8 held their ground and took arrest when police arrived on the scene.
Management was so rattled by the action they locked all the hospital doors and announced that no one would be allowed to leave the building. Several supporters found alternative ways to exit the building, evading security officers posted by main entrance ways.
"We care very much for the people we serve at Touchette Hospital and the future of our hospital," said Micha Whitehead, Nurse Assistant. "That's why we held a one-day strike – to show management that we're willing to do whatever it takes to win a fair contract that invests in the frontline workforce and ensures we can continue to provide the highest quality care to patients."
Check out press coverage from the one-day strike here.
The Nurse Aides, Admissions Representatives, Cooks, Food Servers, Housekeepers, Phlebotomists, and many others who work at Touchette Hospital are among the lowest paid employees in the health care industry, and Touchette average wages rank 23 out of 25 hospitals in the region in pay.(1) Low wages contribute to an increasingly high rate of turnover, where experienced caregivers are forced to look elsewhere for employment. This leads to low patient survey scores that negatively impact Medicare and Medicaid payments to the Hospital.(2) Low wages also create financial instability for workers and their families, with too many full-time employees forced to rely on payday loans, food stamps, and even public assistance in order to provide healthcare for their children.
Touchette received 79% of net patient service revenue, or just over $46 million, from Medicare and Medicaid in FY 2012. Their parent company, Southern Illinois Healthcare Foundation, has received more than $37 million in federal grants and increased net assets by $7.2 million since FY 2011.(3)  In addition to expected increased revenue from the expansion of the Behavioral health Unit at Touchette, the Hospital will likely benefit from the Affordable Care Act, with increased revenues through a patient population that now has better access to insurance.
Workers are committed as ever to winning what they deserve so stay tuned for ways to support their efforts!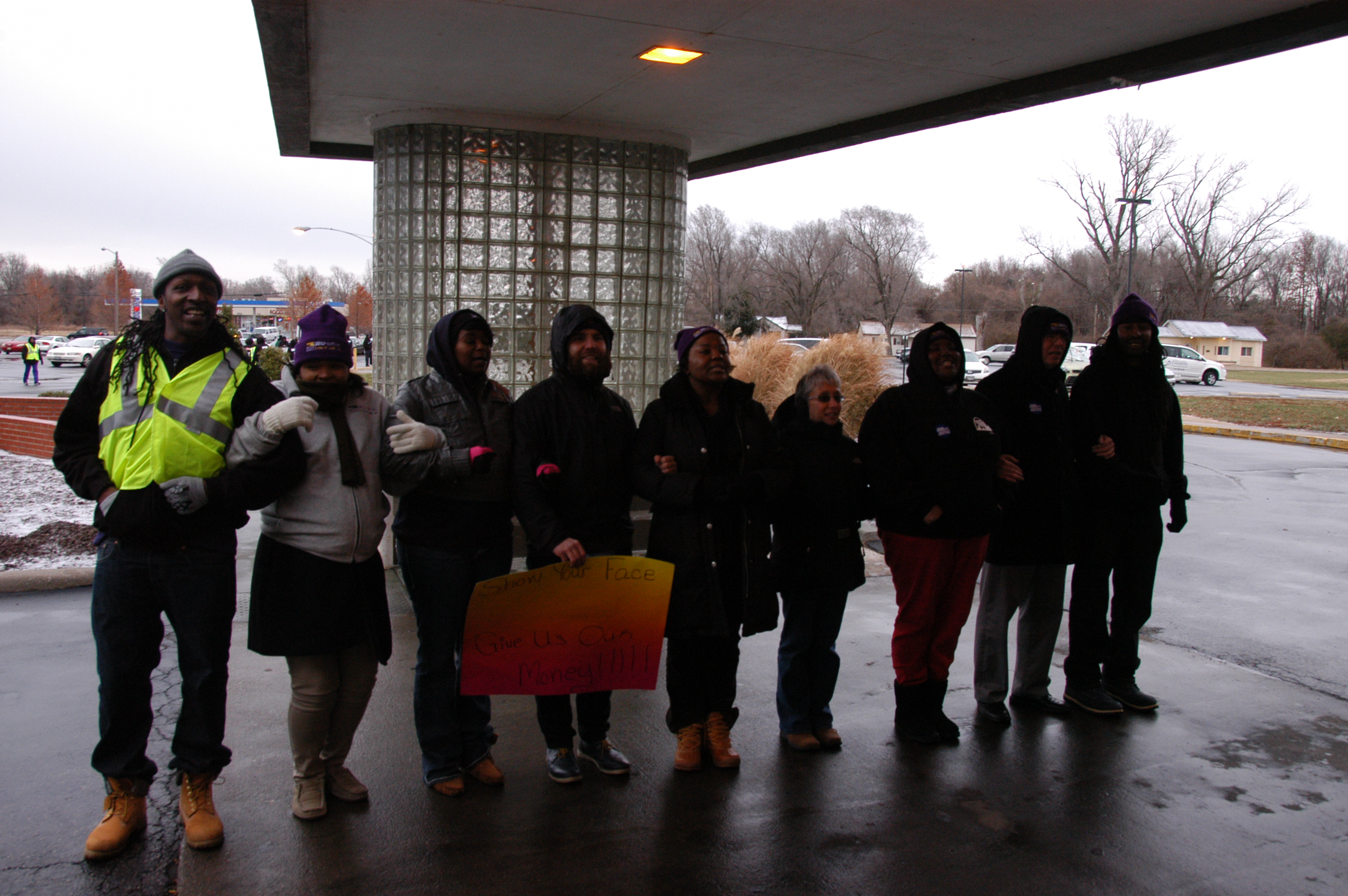 1. FY 2013 Final Rule Wage Index PUFS, Center for Medicare and Medicaid Services FY 2013 Wage Index
2. "Survey of Patients Hospital Experiences HCAHPS" (October 1, 2011 – September 30, 2012), "Hospital Value-Based Purchasing Patient Experience of Care Domain Scores" (Baseline Period July 1, 2009 – March 31, 2010; Performance Period July 1, 2011 – March 31, 2012), and "Hospital Value-Based Purchasing Total Performance Score" (Baseline Period July 1, 2009 – March 31, 2010; Performance Period July 1, 2011 – March 31, 2012), "Hospital Compare", Center for Medicare and Medicaid Services, July 30, 2013
3. "Combined Statements of Operations" and "Note C – Net Patient Service Revenue", Touchette Regional Hospital FY 2012 Audited Financial Statements, p. 6, 14; and "Statements of Activities and Changes in Unrestricted Net Assets", Southern Illinois Healthcare Foundation Financial Statements – Years Ended December 31, 2012 and 2011, p. 6