Touchette hospital workers stand united with community members for fair contract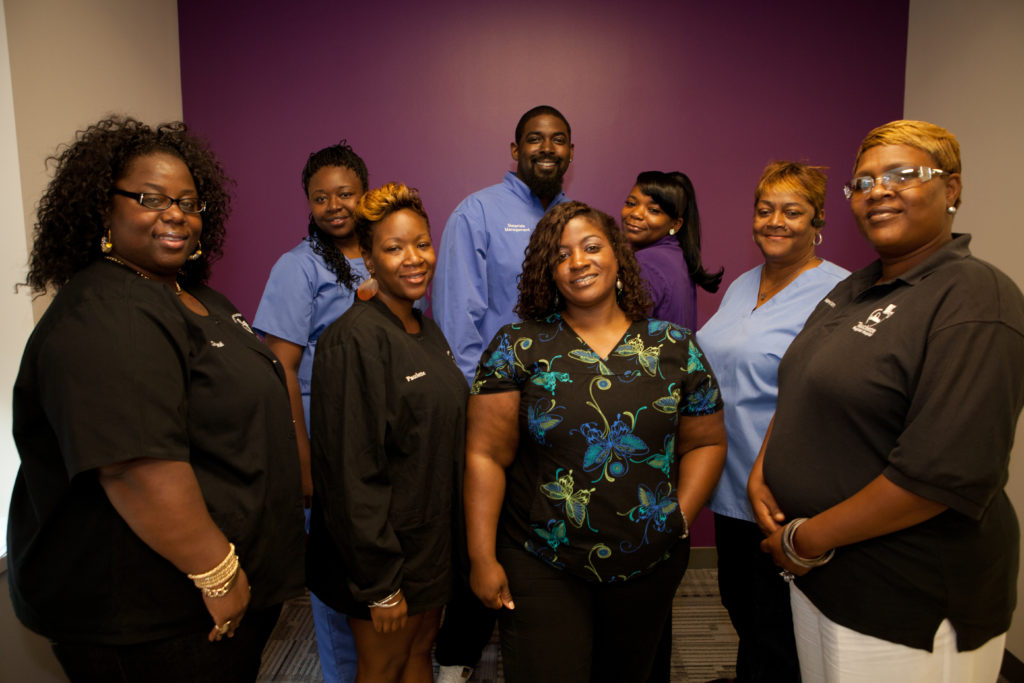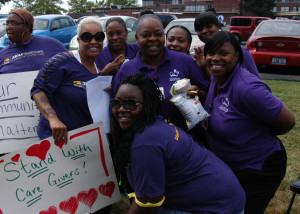 On Thursday, August 29th, community members, faith leaders, lawmakers, and striking fast food workers united with Touchette Regional Hospital caregivers, service, and maintenance staff for a rally outside the facility. Over 150 people turned out to show their support for hospital workers who have been in contract negotiations with their employer for months, and are asking for fair wage increases that acknowledge the hard work they do every day serving patients. Tearful testimony from workers illustrated the dire situations some are facing when they get off work to find bills that keep increasing while wages remain stagnate.
The Nurse Aides, Admissions Representatives, Cooks, Food Servers, Housekeepers, Phlebotomists, and many others who work at Touchette Hospital are 23 out of 25 in the region in pay.(1) Low wages contribute to an increasingly high rate of turnover, where experienced caregivers are forced to look elsewhere for employment. This leads to low patient survey scores that negatively impact Medicare and Medicaid payments to the Hospital.(2) Low wages also create financial instability for workers and their families, with too many full-time employees forced to rely on payday loans, food stamps, and even public assistance in order to provide healthcare for their children.
Touchette received 79% of net patient service revenue, or just over $46 million, from Medicare and Medicaid in FY 2012. Their parent company, Southern Illinois Healthcare Foundation, has received more than $37 million in federal grants and increased net assets by $7.2 million since FY 2011.(3)
The last several weeks, workers have garnered community support from local Mayors, faith leaders, and labor leaders who signed onto an open letter that ran in the East St.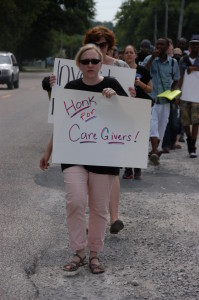 Louis Monitor and Belleville News-Democrat on Thursday, August 29th. The letter echoes the message workers carried at the rally – Touchette Regional Hospital is a highly subsidized hospital and as investors, local community members want to see management do the right thing and invest in their workforce, which will ultimately stimulate the local economy and help stabilize struggling communities.
"With the Affordable Care Act's new mandates going into effect next year, many more East St. Louis residents are going to have access to private insurance and will have a choice in where they receive their care," said Misha Whitehead, a Certified Nurse Aid at Touchette. "Touchette needs to be more competitive and attract that business in order to secure its place in the market. Investing in new carpet or remodeling floors is great, but if Touchette doesn't invest in a steady, experienced workforce, to attract and retain the best quality caregivers and others, patients are likely to go elsewhere for care. And that's not good for the hospital or for our community."
"I'm standing with our local hospital workers because our communities need quality jobs. The cost of living keeps in increasing, but few Touchette workers have had pay increases that even keep up with rising cost of child care, rent, and groceries," said Pastor Norma Patterson of East St. Louis Good Shepherd of Faith Church. "This hospital needs to recognize that investing in their workforce will lead to even higher quality patient care, a better future for Centerville's only Hospital and stronger, a more stable community in East St. Louis."
"The community support we received for our rally and ongoing contract negotiations has been tremendous," said Ron McCray, a Materials Management Tech from Belleville who serves on the bargaining team and has been at Touchette for almost 4 years. "Our rally brought people from all walks of life together, and very few things in this world can do that."
Workers head back to the bargaining table later in September – stay tuned for more updates on their campaign for a fair contract.
 See all of the photos from the rally by clicking here.
1. FY 2013 Final Rule Wage Index PUFS, Center for Medicare and Medicaid Services FY 2013 Wage Index
2. "Survey of Patients Hospital Experiences HCAHPS" (October 1, 2011 – September 30, 2012), "Hospital Value-Based Purchasing Patient Experience of Care Domain Scores" (Baseline Period July 1, 2009 – March 31, 2010; Performance Period July 1, 2011 – March 31, 2012), and "Hospital Value-Based Purchasing Total Performance Score" (Baseline Period July 1, 2009 – March 31, 2010; Performance Period July 1, 2011 – March 31, 2012), "Hospital Compare", Center for Medicare and Medicaid Services, July 30, 2013
3. "Combined Statements of Operations" and "Note C – Net Patient Service Revenue", Touchette Regional Hospital FY 2012 Audited Financial Statements, p. 6, 14; and "Statements of Activities and Changes in Unrestricted Net Assets", Southern Illinois Healthcare Foundation Financial Statements – Years Ended December 31, 2012 and 2011, p. 6