Governor Quinn Signs New Contract as Personal Assistants Look On


On Tuesday, January 29th, Illinois Governor Pat Quinn, State Senator Mattie Hunter, and State Senator Jacqueline Collins  joined SEIU HCII President Keith Kelleher, Secretary-Treasurer Myra Glassman, and a group of Personal Assistants from the 2012 bargaining team to sign the newly ratified contract for PAs in Illinois. In addition to the contract signing, Governor Quinn signed legislation that gives Maintenance Home Health workers the right to form their union and negotiate for improvements, in addition to preserving collective bargaining rights for PAs.
"This contract is not just a matter of dollars and cents, but of flesh and blood. Home care workers never forget what their job is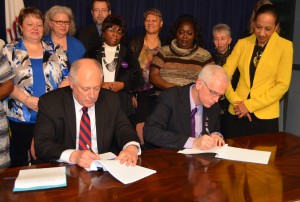 all about: helping people with disabilities preserve their independence. With this contract, the State is making another important investment, not only in a vitally important segment of our healthcare system, but in the future welfare of people with disabilities — and its own aspirations to achieve financial efficiency," said SEIU HCII President Keith Kelleher at the signing ceremony.
"HB 4177 is another important step in the effort to afford caregivers a decent living. It secures the collective bargaining rights that have yielded so many important gains for Personal Assistants and the consumers they serve. And it also provides a path to bring Maintenance Home Health workers along in the march towards economic stability by giving them a voice in our union," President Kelleher added.
Governor Quinn personally thanked each PA in attendance for the critical services they provide before hearing from Gilda Brown, a Personal Assistant from Chicago.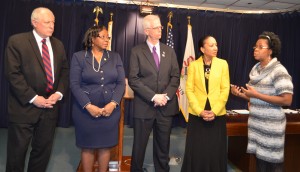 "When I started working as a Personal Assistant 9 years ago, I only made $7.00 per hour and had no access to health insurance or training opportunities. Today, I'm so proud to stand here with fellow PAs as Governor Quinn signs our new contract that will get us to $13.00 per hour in 2014, expands health insurance for hundreds more PAs, and protects our training program that helps us provide even better quality care for our consumers," said Gilda Brown. "Without collective bargaining, the progress we have made would not be possible."
"This contract is not only important for workers, our consumers need a reliable workforce and better wages and benefits cut down on turnover and that means more stability for the people we serve. We still have more work to do, but this contract is a big step forward for home care workers and consumers in Illinois," added Brown.
Click here to read more about the new contract for Illinois Personal Assistants.