Yes We Did: Working people bring it home for progressive lawmakers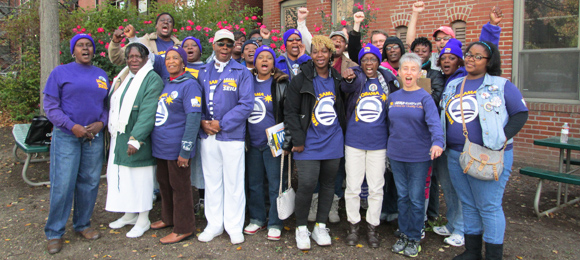 November 6th was a night of celebration for working people all over the country. After months of pounding the pavement for progressive leaders on the state and federal levels, we won a mandate this year, with big gains in the House, Senate, state offices, and, of course, the reelection of President Obama proving that the American people are ready to work together to lift up workers and the middle class, not continue to line the pockets of the 1%.
These victories would not have been possible without the hard work and dedication of our members.
Our work, by the numbers:
2051 – Doorknocking volunteers
158 – Phone banking volunteers
794–  Members who traveled to Wisconsin to help with races there
8 – New seats won for Democrats in the US House
2 – New seats won for Democrats in the US Senate
9 – Walk a day events held leading up to the elections, to make candidates aware of the importance of our members' work
2 – Supermajorities won in the Illinois General Assembly
57 out of 64 – HCII-endorsed candidates who won in Illinois
10 out of 13 – HCII-endorsed candidates who won in Missouri
1– Democratic governor reelected in Missouri
Chicago home care worker Germaine Rias campaigned in three different states, knocking doors, calling voters, and going all-in for progressive lawmakers. Germaine was on an SEIU bus back from canvassing in Milwaukee when the news about Obama's victory started to spread.
"I was on the bus on the 290, and everyone was just in an uproar. Everyone was on their phones, checking their Twitters, getting calls from our families. I got to Obama's victory event at McCormick Place, and the feeling was just breathtaking. I called my organizer and said, 'I don't know if this sounds weird, but I love you right now for giving me the opportunity to be a part of this victory.' That's how I felt."
Sherry Wade, a home care worker in St. Louis, was on the front lines helping to reelect Democratic Governor Jay Nixon.
"Governor Nixon even stopped by to thank SEIU members for all the hard work we did to help him get re-elected," Sherry said. "It was a great opportunity to remind him that we stand with lawmakers who stand with us so he remembers our faces and the issues that are important to us during his next term."
As Sherry said, our work with these lawmakers isn't over. It's up to working people to hold them to the promises they made, and we'll be keeping the pressure on in the coming months. But today, we should all be proud of ourselves for the victories we worked so hard to achieve.