Nursing Home Workers Tell Owners To Invest In Quality Care During Candlelight Vigil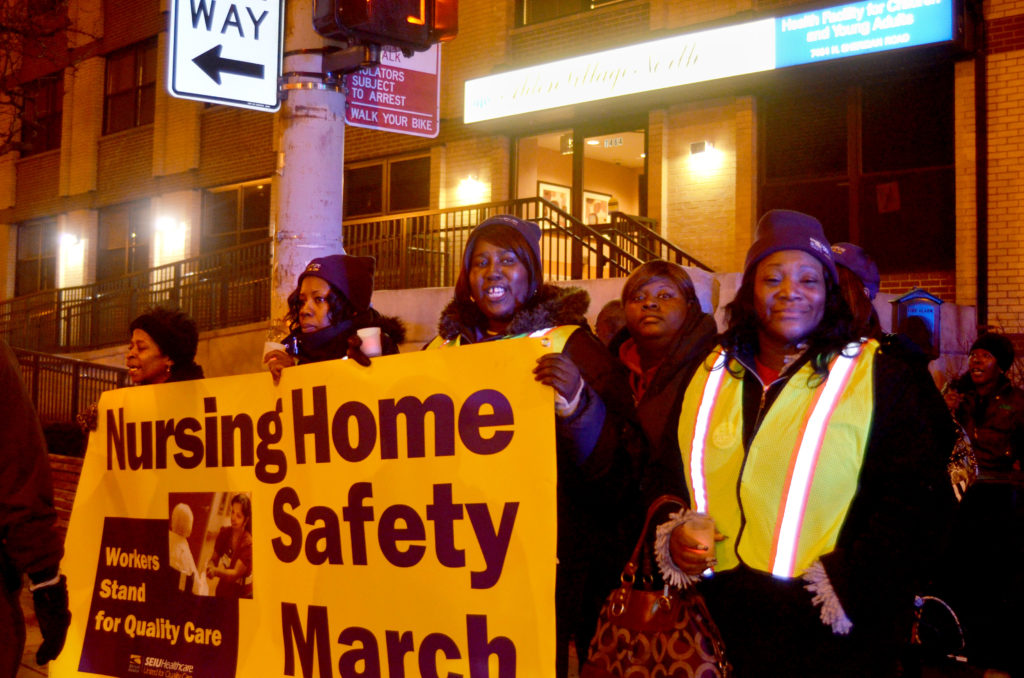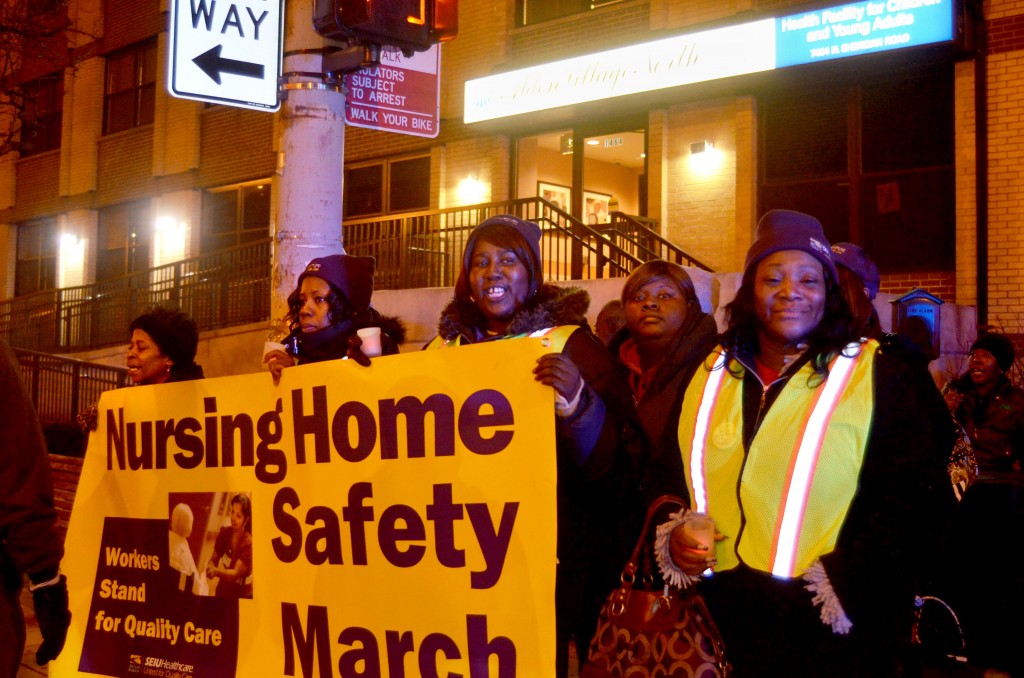 CHICAGO– Despite amassing large profits, Illinois nursing home owners are systematically failing to invest adequately in the needs of the residents entrusted to their care, according to workers at the facilities, who gathered by the hundreds Nov. 15 in a mass demonstration joined by lawmakers and community advocates.
Participating in a march and candlelight vigil outside four trouble-plagued nursing homes on the city's north side, the workers said understaffing, supply shortages and woefully low staff compensation rates are all factors that hamper the quality of care at homes operated by members of the Illinois Association of Health Care Facilities (IAHCF).   IAHCF is an alliance of more than 100 nursing homes statewide, and its members collectively compiled a $50.5 million profit in 2011.
"The members of the IAHCF are short-changing the people we care for, and we're taking a stand today to show our support for nursing home residents and their family members," said Tanya Pugh Rizer, a Certified Nursing Assistant (CNA) at The Grove of Lincoln Park.   "The owners of these nursing homes have made big profits, but they haven't invested that money in hiring additional staff, supplementing scarce supplies or raising wages for workers to reduce turnover on the job."
During the demonstration along Sheridan Road, the marchers stopped at four nursing homes where they said conditions were symptomatic of theproblems afflicting many IAHCF locations.  The four locations – Lake Shore Healthcare, Chalet Living and Rehab, Alden Village North and Lakefront Nursing & Rehab – have all come under scrutiny from state regulators in the past year.
Meanwhile, at least 25 percent of IAHCF nursing homes are not complying with minimum staffing requirements set forth in landmark legislation the Illinois General Assembly passed in 2010 in an attempt to remedy chronic problems at the facilities.  SEIU Healthcare Illinois and Indiana backed that bill on behalf of the nursing home residents, and it is raising alarms in the community now, since illegal understaffing remains a pervasive problem throughout the industry. 
"Understaffing threatens the quality of care for nursing home residents, because they can't get the attention they deserve when workers are asked to do the job of two people," said Yolonda Morris, a CNA at Cedar Point Nursing Home. 
The average wage for workers employed by members of the IAHCF is $10.55, amounting to an annual income below the poverty line for a family of four.
In current contract negotiations, IAHCF members have offered workers a five-cent-per-hour pay increase, only if they agree to forfeit some of their minimal vacation time.