Hundreds of members gather in Chicago for biggest-ever Member Leadership and Activism Assembly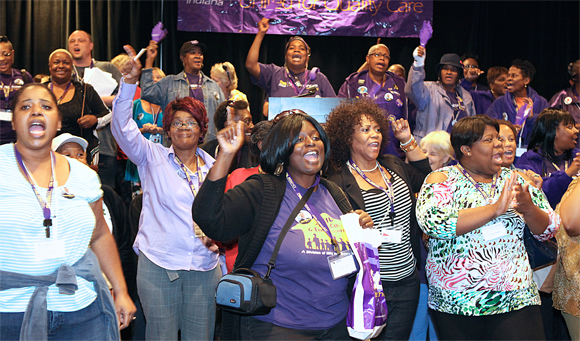 On Saturday, September 8th, 650 of SEIU HCII's most active and fired-up members gathered in Chicago to celebrate victories, plan to overcome obstacles, and get motivated to re-elect President Barack Obama at our biggest-ever Member Leadership and Activism Assembly.
Some were veteran member leaders while others were rising stars, but all of the participants at this invitation-only event have shown that they're ready to do whatever it takes in our union to protect our programs, win for working people, and elect lawmakers who work for us.
St. Louis University Hospital Patient Transporter and bargaining committee member Tommy Trokey came all the way from Missouri to be with his brothers and sisters.
"This was my first Leadership Assembly with our union and really my first event with members outside of my workplace. I left Chicago feeling very empowered and I've been sharing my experience with all of my coworkers.  I can't wait for next year's assembly because by then SLUH workers will be able to come back and celebrate the strong first contract I know we will fight for and win with all of our SEIU brothers and sisters," Tommy said.
Members from all of our divisions and states gave testimony to the group, bringing our brothers and sisters up to speed on our triumphs over the past year, as well as discussing the best ways to overcome the very real threats facing working families all over the United States in the coming months. See highlights from member testimonies:
Guest speakers also addressed the crowd, including our own Mary Kay Henry, President of SEIU.
"I am so blessed to be in your company today because I can't think of a more fired up group of member leaders across this union that after that DNC is ready to hit the streets and help us win November 6th!" Mary Kay said.
Though we know that the outcome of this year's election will have very real effects on all working families, members also shared stories of how our lawmakers have affected their lives on a more personal level. 21-year home care veteran member Sandra Wiekerson told the story of how her family lost her health care when her husband became disabled. She almost had to put a lien on her home to afford their healthcare costs. But thanks to President Obama's health care plan, relief is coming soon.
"We're waiting till 2014, when we'll finally be able to get affordable health care thanks to President Barack Obama," she said. "I'm proud to know that working people like my husband and I can finally afford the care we need—and it's up to us to get into the fight to protect it by reelecting him," Sandra said.
After testimonials and a series of workshops designed to teach new leaders how to organize their coworkers and their communities into giving the November election all we've got, member leaders piled onto 16 school buses to travel to Walmart, where we took over the store, speaking out for fair wages and respectful treatment for Walmart workers. Watch the scene as our members flood the aisles:
Members took this action in solidarity with the Organization United for Respect at Walmart [OUR Walmart].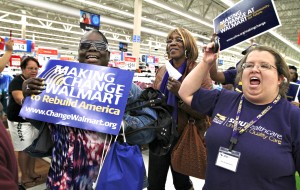 According to their website, the people of OUR Walmart "envision a future in which our company treats us, the Associates of Walmart, with respect and dignity. We envision a world where we succeed in our careers, our company succeeds in business, our customers receive great service and value, and Walmart and Associates share all of these goals."
It was a fiery end to a day spent working toward these goals, not just for Walmart employees, but for all working people. With more and more of our members becoming active in the union every day, next year's Member Leadership and Activism Assembly will be even bigger and better than this year's.