Providers and parents spring into action to save child care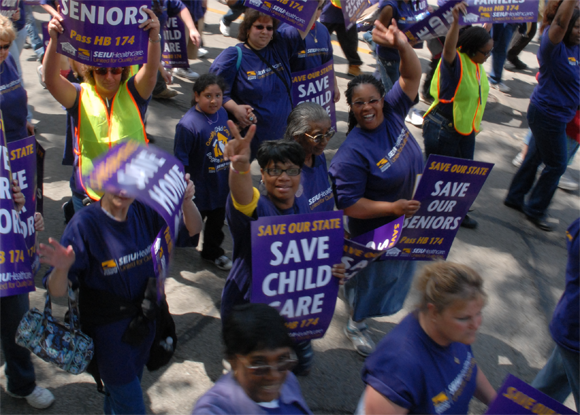 We're acting now to fight off devastating cuts to child care in Illinois. Sign up here to join us in Springfield on May 15th, and do your part for kids, working parents, and providers in Illinois.
Parents and child care providers across the state hit the ground running after Wednesday's announcement that a $73 million shortfall in the Illinois budget could leave providers without pay until July– on top of a proposed $85 million cut to the Child Care Assistance Program in FY13– creating a crisis for parents, children and providers.
"There's no way I can pay my mortgage if we can't stop these cuts—the bank doesn't want to hear that the state can't pay me," said Victoria Williams, a home child care provider on Chicago's South Side. "If I have to close down, parents are going to lose their jobs, because other daycare centers won't be accepting new kids knowing that they won't be able to support them."
"It's up to us as parents and providers to make sure our lawmakers understand just how devastating this is to all of us," Vanessa said.
Watch Vanessa's story, which appeared on Fox's 12 o' clock news the day after the state announced the shortfall. Several other news outlets around the state have approached providers and parents to learn how Illinois residents will suffer from this budget disaster.
Home child care provider Pamela Franks is holding a meeting for parents and providers at her home in Springfield to involve working families in the fight to protect the Child Care Assistance Program.
"I've been a child care provider for seventeen years, I'm a single mom, and I rely solely on child care payments for my income. Since I got this announcement from the state yesterday, I'm worrying not just about how I'm going to feed my own kids and keep my lights on, but about the five families I care for who are going to suffer because they'll lose their jobs if I can't keep going," Pamela said.
"I just started calling and emailing newspapers with my story because we've got to make lawmakers see the ripple effect this crisis could have on the state," Pamela said.
More than 35,000 child care providers could be put out of business by this funding shortage, leaving more than 85,000 working parents out of options for childcare when they need to get to work. On May 15, we're rallying in Springfield to stand up for the thousands of Illinois families who will be devastated by these cuts.