After massive mobilization, emergency funding for child care passes General Assembly!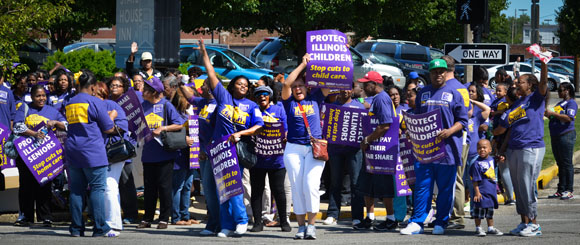 Thanks to thousands of parents, providers and allies storming phone lines, air waves, emails, and the Statehouse, Senate Bill 2450 (formerly known as HB 6164) has passed the General Assembly, guaranteeing funding for child care assistance for the rest of the fiscal year!
"Working parents can breathe a sigh of relief that their child care providers won't immediately shut down, said Annie Yarbary, a home child care provider in Decatur.
Still, the fight isn't over.
"We must be vigilant because our programs are still at risk of being slashed in the Governor's budget," Annie said. "These cuts could result in working parents, and especially single moms, being unable to go back to school and who are desperately trying to improve their lives. This is why we are fighting for those without a voice. "
At a lobby day earlier this week, more than 1,200 of us took more than 12,000 postcards from Illinois residents from all walks of life, calling on our legislature to stop devastating cuts to the home care, child care, and community hospitals our communities rely on. Our quick action has averted this immediate crisis, but we'll have to stay strong to fight off budget cuts as the year goes on.
"Cutting child care assistance will devastate the parents and the children of Illinois, and cost the taxpayers more money in the long run," said Faith Arnold, a child care provider in Bellwood, outside of Chicago. "Times are already hard for the families that we care for and support – they have few choices as it is. Our politicians are neglecting their responsibilities when they refuse to tax the rich in order to fund child care programs that will give children early learning opportunities to strengthen their education."